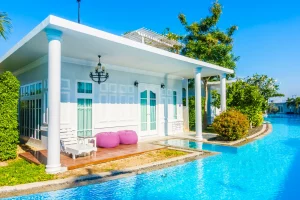 When you think of your summer vacation rental, you undoubtedly think of marketing or redecorating your property and other strategies to keep your place fully booked throughout the summer. Whether it is a word of mouth or a digital review, how well guests rate your summer rental has a lot to do with your turnover cleaning ability. To earn 5 stars for your vacation rental, you must treat it as if it was a luxury 5-star hotel, especially when it comes to cleaning. Any dirt, grime, stains, or even a few hairs left in vital areas like beds, toilets, showers, and kitchens, may irritate guests and negatively impact their final review.

Whether you clean your property by yourself or utilise a vacation rental cleaning service by a professional company, make sure high standards are set from the start, and deep cleaning is performed every time a guest departs.
Why should vacation cleaning be different from typical house cleaning?
When visitors book a stay in your summer rental, they will expect it to be immaculate. Give them no reason to think that the place is anything less than that. Make your rental apartment feel like home, yet add a level of cleanliness that is a step above your regular housekeeping.
Here are some steps you should always take care of:
Wash the previous guests' linens.
Surface cleaning, including thorough disinfection of frequently touched places such as door handles, light switches, faucet taps, and remote controls.
Stock up on toilet paper, towels, paper towels, cleaning supplies, soap, and other necessities.
Examine the whole property for damage.
Test electronics and appliances.
Clean the patio and the deck furniture.
Sweep, mop, vacuum, and dust carpets and upholstery, as well as all rooms individually.
Remember, even though you might be used to cleaning your rental property and not see it as a big deal, your guests certainly do. They will expect it to be spotless and disinfected, but they also want it to feel like their home away from home. Impress your guests and hire a professional company to take care of the job for you if you feel like you are too busy to do so yourself.
Cleaning your rental property by yourself
If you are cleaning the property by yourself, a comprehensive vacation rental cleaning checklist will help you cover all the basics. However, there are other things to consider. Cleaning your own place saves money and should enhance your earnings. After all, the purpose of owning a vacation rental is to generate profit but it is also critical to consider the true savings.
If you live far away from the area of your vacation rental, or simply do not have enough time to maintain and clean your property, doing the job yourself may not be a suitable option. Even if you live nearby and have some spare time, think about whether you can really commit to deep cleaning the entire vacation rental weekly, if not more frequently.
In the best-case scenario, during the best rental season, you will have back-to-back bookings. However, due to the rapid turnover visitors normally check out around 10-11 pm, and the following ones will check in around 3-4 pm. That gives you approximately 5 hours to thoroughly clean your summer rental from top to bottom.
Considering all this, you may decide that a cleaning service would be the better choice. As long as you pick the correct one, a respectable housekeeping service can save you time, money, and negative reviews. Here are some things to look for when picking a professional house cleaning service.
Choose a cleaning service that is licensed, insured, and bonded. That way you will be able to protect your rental, guests, and reputation.
Make sure that any housekeeping service you are considering provides a variety of services so that you always receive the results you require.
Choose a well-known and well-rated maid service. Look out for honest reviews from customers.
Choose a cleaning service that has demonstrated the ability to clean swiftly and efficiently.
Keep in mind that in those situations, first impressions matter and you will only have one shot to win your customers. If they arrive and are left disappointed, they may not only not come back again, but also leave unpleasant reviews that will affect your business in the future. Do not compromise in any way and keep in mind that your customers deserve the best quality.
Here is an extra thing you can pay attention to:
Regular deep cleaning of your carpets will help extend their life and keep them looking their best season after season. Carpet cleaning will also improve your indoor air quality, and eliminate dust, filth, allergens, and debris. Make sure you do the same with all upholstery, cushions, mattresses, and curtains.