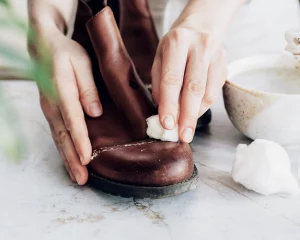 In winter, salt is used on the streets and sidewalks in order to melt ice. It contains calcium and magnesium carbonate that can leave white streaks on fabrics and shoes, once they dry on their surface.
Salt stains are relatively easy to get rid of, however, if not treated on time, they can damage certain fabrics such as silk and wool. To prevent that from happening, wipe down your shoes, jackets, or bags as soon as you get home. It is the easiest to get rid of salt stains from pants. To attack them before they have time to occur, take your pants off as soon as you get home and toss them in the washing machine. To prevent damage and discolouration, brush the salt stains as soon as they appear on your clothes or shoes.

Before you begin with the cleaning process
It is very important that you check the fabric care label. Every garment will have one. This label will give you specific instructions about the suitable cleaning methods for the particular fabric on hand. If the item is labelled as ''dry cleaning only'' do not attempt anything at home and bring it to a professional cleaner as soon as possible.
Cleaning salt stains from leather shoes and boots
Wipe the stained area with vinegar – Make a solution of 1 cup of cool water and 1 tablespoon of distilled white vinegar in a small bowl. Soak a cotton ball or a soft microfiber cloth in the solution and wipe down the surface of the stained shoes. Make sure you don't oversaturate the leather, especially if they are real sheepskin since that may cause permanent stains and discolouration.
Allow the shoes to air dry – Let the shoes air dry away from direct sunlight and heat sources. Real leather and sheepskin shoes and boots may take about 24 hours to dry completely.
Buff the leather – Buff the whole upper of the shoe or boot with a clean, dry cloth. You can use a shoe conditioning product to make the shoes or boots more waterproof. To see how a product changes the colour of the leather, test it on a small interior area first.
Getting rid of salt stains from washable clothes
Rinse or soak the area – As soon as possible, rinse the salt-stained area with cold water. Brush off the salt as much as possible if it has dried and stains have formed. Then soak the garment overnight in cool water. You can use a soft-bristled brush to get rid of dried salt stains from your garments.
Wash as usual – Wash the garment as usual. Do not forget to follow any specific instructions mentioned on the fabric's care label. Use your regular laundry detergent and cool water.
Removing salt stains from carpets – You can use this method for the carpets at home or in the car
Vacuum the stained area – Vacuum the carpet to get rid of any loose or dried salt. If the carpet is still wet, you may want to let it dry first. This will help you get rid of a big part of the salt.
Mix a cleaning solution and apply it – Mix a 1:1 solution of white distilled vinegar and water. Spray the area with the liquid but make sure you don't oversaturate it. Let the solution sit on the fabric for at least 5 minutes, then blot it with a clean paper towel.
Let the area dry completely, then vacuum it to restore the carpet fibres.
For leather boots and shoes – If you have real leather shoes like nubuck or suede, you can use a special cleaning solution to help get rid of the stains without causing damage to the surface.
Extra tips on cleaning salt stains from various surfaces:
For clothing: If traces of salt remain on the garment even after laundering, mix a 1:1 solution of white vinegar and water, dip a cotton ball or a soft cloth in the liquid and dab the salt stain. Once you are done, absorb as much of the moisture as possible using a paper towel or a dry cloth, then launder the item as usual.
For carpets: If stains persist, prepare a solution of 2 teaspoons of liquid dishwashing detergent and 2 cups of lukewarm water. Dip a soft-bristled brush or sponge into the solution. Begin by working the cleaning solution into the stained area starting at the outer border of the stain. Blot the stain out of the carpet using a clean white cloth or paper towel. Continue to move the cloth to a clean, dry location until no more of the stain is transferred. Rinse the area with a clean white cloth dipped in plain water. It is especially vital to rinse away any cleaning solution that has the ability to attract soil to the region. Blot until there is no more soapy residue. Allow air drying, then vacuum the whole surface.